Planning with an injured person
Lifetime Care and Workers Care use a person-centred, strengths-based planning approach called My Plan – designed to assist someone with planning for the things that are important to them.
My Plan is a dynamic tool that helps people communicate their aspirations, identify goals and work out the steps to take and the supports needed.
My Plan is particularly helpful for people early on in their rehabilitation or whose needs are changing. We know that everyone's situations and needs evolve and a My Plan may not be needed all the time. My Plan is there for when people need it.
Your role as a case manager or planning facilitator is to guide the injured person and/or their family through the planning process.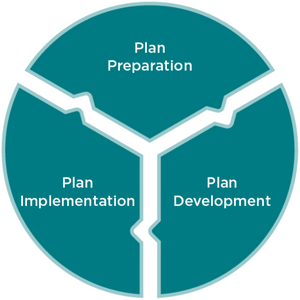 My Plan's success is linked to the level of engagement a person has with their plan.
Plan Preparation – Think
Encourage a person to get started with their My Plan through thinking about their services and supports, what progress they've made, what they aspire to and the next steps they need to take.
Plan Development – Write
During plan development, the person identifies what steps they'll take to achieve their goals, and any other services or supports they and the case manager agree might help achieve goals.
Plan Implementation – Do
Here is where the person puts their plan into action. You can support them by helping to engage service providers, monitoring their progress, and reassessing their needs in the event their goals or situation changes. As the plan period comes to an end, reflect together on their progress with the person and start preparing for the next plan cycle.
---
Did you find what you were looking for?