My Plan: injured workers of Workers Care
Use My Plan to work out the assistance and support you'll need to plan for the things that are important to you following a severe workplace injury.
My Plan is the planning tool used by Workers Care to help you:
tell us the things you want to do
identify the assistance and support you need
identify what you will do to work towards the goals you have set.
My Plan is a dynamic tool that can help you communicate your aspirations, goals, work out the steps you need to take, and the supports that you need. My Plan is particularly helpful for people early on in their rehabilitation or whose needs are changing. It can also be useful when planning around major events (or anything that requires planning).
We know that everyone's situations and needs evolve and a My Plan may need to change or may not be needed all the time. My Plan is there for when you need it.
If you feel that a My Plan may not be helpful for you, please speak with your Case Manager or icare Contact directly if you require services. Remember, you can always use a My Plan, even if you have not used one for some time.
A case manager or your Workers Care contact is available to guide you through My Plan.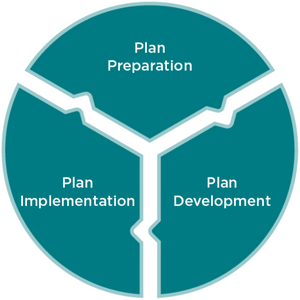 My Plan is your plan. It's a useful tool to plan for the things that are important to you.
Three phases of My Plan

Preparation – Think

Start preparing by yourself or with a family member or your case manager.

We've created a My Plan preparation tool that encourages you to think about:

your goals and aspirations
the services you've received to help you achieve your goals
your progress and strengths
your new priorities
maximising your independence.

There's space for you to make notes about your reflections, and you can take this with you when you meet with your case manager to develop your plan.

Your case manager will also prepare for planning by gathering progress reports, feedback from service providers and reflecting on the previous plan and outcomes.

Let your case manager know how much involvement you wish to have in your plan development and consider whether you want to work differently together.

Development – Write

Next, you will meet with your case manager to talk about what you have both learned during Plan Preparation. These conversations will help you to communicate your aspirations for the future and any specific goals to include in your next My Plan.

You will be asked to think about:

what you can do yourself to help achieve your goals
what you've been happy with and what you'd like to change
what you've learnt about yourself and your hopes for the future.

Your case manager will:

share their observations on your progress, identifying anything that might be acting as a barrier and what seems to be supporting you well
work with you to identify what services or supports you might need
calculate the hours and costs for the services you need and submit this as a request to Workers Care.

If your needs are stable and you have an interest in managing your My Plan more independently, please reach out to your Workers Care contact.

Materials developed to assist case managers and planning facilitators to guide a person and/or their family through the planning process are available on the Planning with an injured person page.

Implementation – Do

Plan implementation is when you and your case manager put your plan into action. Experience tells us that the more responsibility a person takes for managing their plan, the greater their sense of achievement and progress, so your case manager will encourage you to be as independent as possible.

Your case manager or Workers Care contact will help you connect with the required services and monitor your progress towards achieving your goals to make sure things are going to plan for you. If your goals or needs change, talk to your case manager or Workers Care contact. They can submit a request for additional services during the My Plan period.

As the plan period comes to an end, you, your family and your case manager can reflect together on your progress and start preparing for the next plan cycle.