How Paralympian Nigel Smith helps to prevent workplace injuries
Nigel Smith was an active guy until a workplace accident changed his life.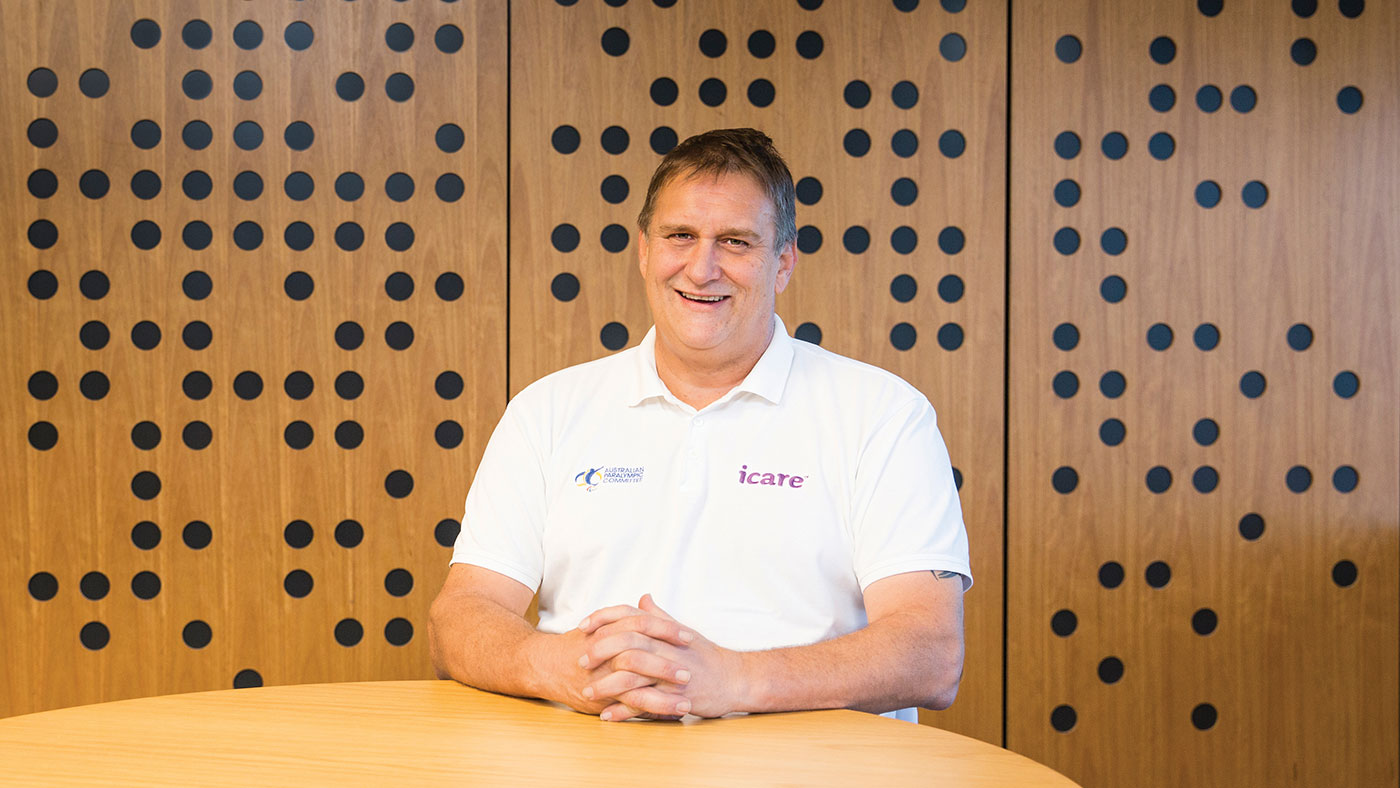 Fifty-year-old Nigel Smith is a professional volleyball player, having represented Australia in the 1998 Standing Volleyball World Championships in Poland and competed in the Sydney 2000 Paralympics. At the age of 25, while working on a heavy industry paint machine, Nigel's leg was caught in a chain conveyor. After enduring many operations and fighting numerous infections, his leg was eventually amputated.
Nigel shares his story to raise awareness among employers and employees about the importance of working safely.
Nigel's story
Interviewer: You were quite young when you had the accident. Tell us about your life before then.
Nigel Smith: I was working as a carpenter and moved to manufacturing when there was a downturn in the building industry. I had the accident a little over 12 months after that. I was 25 years old and led a really active life. I was involved in lots of sport, including rugby league, cricket, touch footy and golf.
Interviewer: Sport has always been important to you. How did the accident change that?
Nigel Smith: Immediately after my accident sport was probably not my first priority, but it's been the most rewarding, both physically and mentally since then. Especially playing sport with people with similar disabilities.
Interviewer: In many ways the accident was a new beginning for you. Tell us about some of your major accomplishments since then.
Nigel Smith: The first time I was selected to play for Australia in the world championships in Poland would be right up there. To walk out into Stadium Australia on opening ceremony night at the Sydney 2000 Paralympic Games to 110,000 people screaming down at you is just the most amazing experience imaginable. To represent my country, in my country in front of my friends and family – I'm really not sure it gets much better than that.
Interviewer: A lot has changed in the workplace over the years. What are the differences between then and now?
Nigel Smith: The obvious big change would have to be the safety culture in the workplace. Working unsafely is no longer acceptable.
What's driving safety in the workplace has also changed. When I had my accident, I believe safety programs were driven by the money and costs involved after someone had been hurt, but after working in the safety industry for the past 17 or 18 years I've seen safety being driven more from the heart, and people really caring about not hurting other people. Most of the people I've met working in workplace safety have a reason why they've ended up there and they are just so passionate about helping other people avoid being hurt.
Interviewer: You don't see yourself as disabled and have always had a 'get on with it' attitude.
Nigel Smith: I must say that attitude can change day by day, just the same as any able-bodied person. Understanding what other people around you are going through is important, and for me to sit in the corner crying about it would be a bit selfish. In these situations, you get the choice to give up or move forward. The people around you, your support network, don't get that choice, so the only way for them to go forward is for you to go forward and bring them with you.
Interviewer: What are the key messages you want workers to hear?
Nigel Smith: I try and give people a bit of an idea of the widespread impact a major injury will have, not only on them but on friends, family and workmates. Communication and speaking up about safety and looking out for each other is really important. I also like to encourage workers to use the safety systems and tools that are in place in their workplace to their best advantage. The response we get from workers and management is great.
Interviewer: You're keen to make a difference and use what happened to you for good. What are you most proud of?
Nigel Smith: I'm pretty sure I speak for all the guys and girls involved in the speaking program when I say it's such a fantastic opportunity for us to be able to use this horrific event in our lives to help other people avoid going through anything like we did. If we can do that, we're all winners.
You just will not find people anywhere that are more passionate about helping people avoid being injured.
I sometimes think people get passionate about what they're good at and I really believe that when I go out and tell my story I make a difference.
Of course, I'm proud of my sporting achievements but I'm also proud of my work with the Speakers Program. I'm certainly not your natural public speaker. I get so nervous beforehand and it's a pretty emotional and uncomfortable journey I go through with every talk. But if I talk to 100 people and I can help just one avoid anything like I went through then it's worth a little discomfort.
About the Paralympian Speakers Program
The icare Paralympian Speakers Program provides icare customers access to current and former Paralympians affected by a workplace injury. Run in partnership with Paralympics Australia, the program is a unique way to raise awareness of workplace health and safety.
Our speakers demonstrate that with the support of those around them an injured worker can recover and go on and contribute to their workplace and community or even become a high-performance athlete.
Find out more about the Paralympian Speakers Program