Making a difference with Mental Health First Aid
Mental health is becoming an increasingly important topic when it comes to keeping your people safe at work.
With so much information now available and so many support services to draw on, it can be overwhelming for employers to know how to get started on building a mentally healthy workplace.
icare has been working with NSW employers to help put them on the right track by providing Mental Health First Aid (MHFA) training. The MHFA course teaches employers how to provide immediate assistance to someone who may be developing a mental health problem, experiencing a worsening of an existing mental health problem or experiencing a mental health crisis.
Employers come away with valuable knowledge about the signs and symptoms associated with common mental health illnesses as well as practical tips on how to develop an evidence-based action plan to assist their workers who may suffer from a mental health problem. The course also allows you to become an accredited MHFAider.
In 2019, more than 200 people took part in the course with the majority of participants becoming accredited.
Course feedback has shown the training is having a significant impact on raising awareness of mental health in the workplace, and equipping NSW employers with the tools and knowledge they need to create a supportive environment where mental health can be discussed.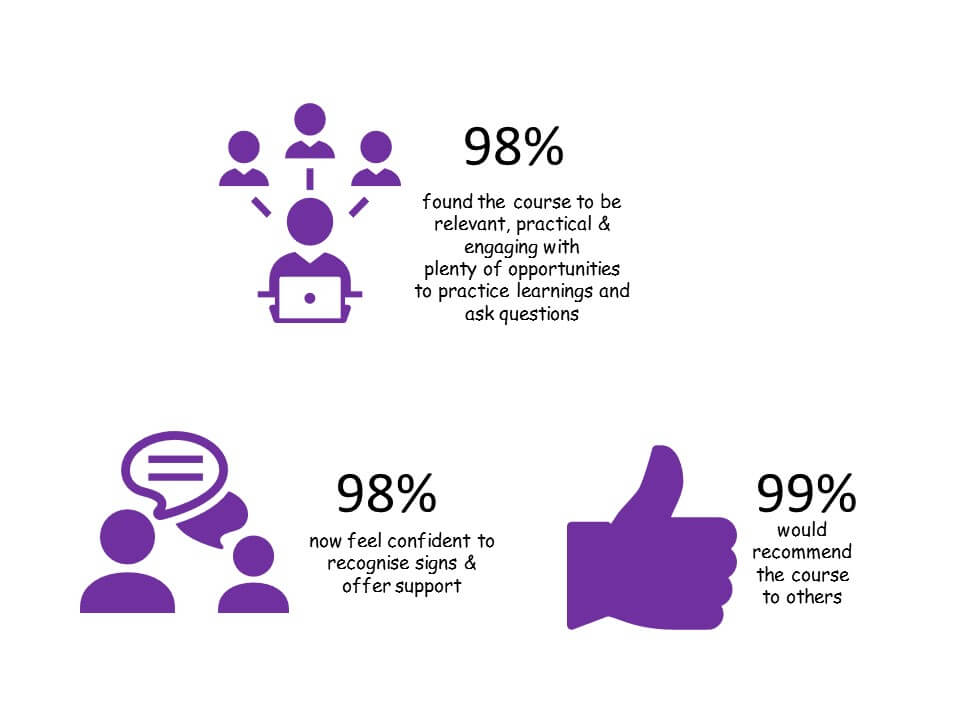 Participants found the course very practical, many coming away with strategies they are already implementing in their own workplaces.
"Very practical and pertinent. I have already had to use the skills attained on two occasions in the past week… and it has had a positive reaction… It has given me the confidence to approach the subject of mental health with others without 'dancing around the edges'."
"It provided good insight into the minds and experiences of those suffering from mental illness and gave different perspectives on how I could approach and support them… As an HR practitioner, I feel that I can now approach those suffering with mental illness with more knowledge and tools…"
Interestingly, over three quarters of participants found the course content new to them indicating that this is an area many NSW businesses are still learning about. They also found it to be useful both on a professional and a personal level.
"This course had an immediate and deep impact on my understanding and my capacity to address mental health problems in the workplace and at home."
While we are getting better at talking about mental health there is still much work to be done in terms of breaking down the stigma around mental health issues. Based on the course feedback the future looks promising, with 97 per cent saying they felt they would be able to recognise and correct other people's misconceptions about mental health problems.
"Not only did it [the course] provide the tools and language to talk about mental health and approach someone in crisis it also works to subvert preconceived and oftentimes incorrect notions of mental health."
Participants also appreciated the hands-on, interactive style of delivery.
"I like the instructional design of the course and the way that it brings together, pictures, feelings and words as well as video and other learning content, including a handbook…"
icare's Injury Prevention team runs the MHFA course on a quarterly basis. Businesses interested in learning more about this important part of workplace safety should contact prevent@icare.nsw.gov.au to register their interest.