Gentle Bear joins first responders
icare sponsors teddy bears for first responders to give to children in the aftermath of traumatic events.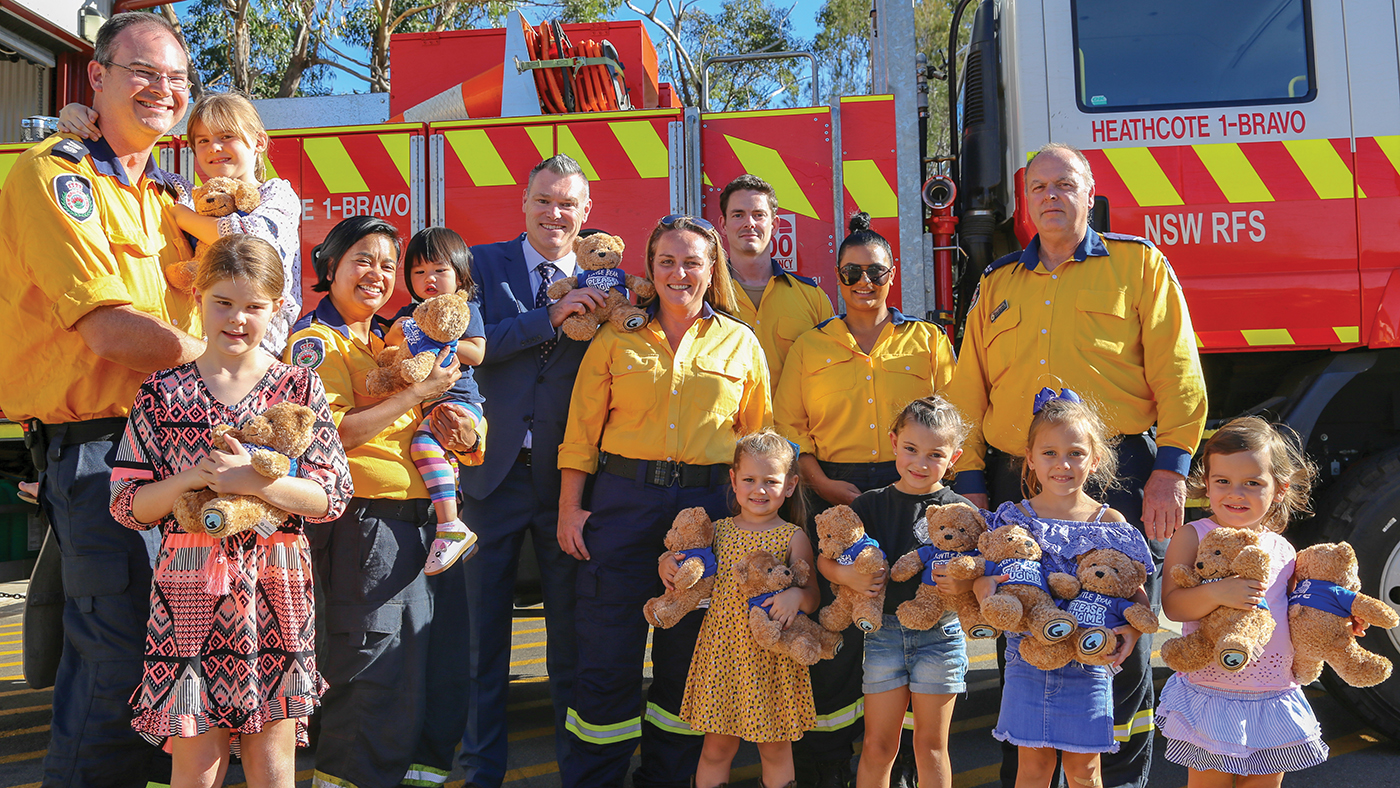 In January 2019, 2,500 Gentle Bears arrived on the doorsteps of 46 Rural Fire Service (RFS) stations in NSW, ready to care for the mental health of both young children affected by emergency situations, and volunteer fire fighters across the state.
The NSW Rural Fire Service is the world's largest volunteer fire service. Through our Insurance for NSW arm, icare provides workers compensation insurance to each of their more than 72,000 fire fighters.
First responders and mental health
"First responders are critical in taking care of the community in times of crisis, but we also know they need to take care of their own wellbeing. Many first responders experience trauma as part of their role and we recognise that psychological injuries are among the most complex, costly and life changing," says Britt Coombe, icare's General Manager of Agency Engagement.
First responder mental health is a priority for icare. Since 2017, the icare Foundation has been co-funding the Workplace Mental Health Research Program, focused on developing an evidence base for new interventions that benefit NSW emergency service workers. Gentle Bear represents an avenue through which icare can support the mental health and wellbeing of NSW's volunteer firefighters.
Supporting others to reduce stress
Research has shown that supporting others can reduce physiological stress responses during testing times, with the act of giving itself contributing to beneficial health outcomes.
"We hope that Gentle Bear will not only benefit children and their families who are affected by emergency situations but that he'll also look out for the wellbeing of our RFS volunteers. We hope that the act of giving a Gentle Bear will help our volunteer firies feel like they're 'doing something' in situations that can otherwise make them feel powerless," says Ms Coombe.
The first responders of the NSW RFS aren't the first lives to be touched by Gentle Bear. The idea was the brainchild of Gallagher Bassett. In 2007, they were working with the South Australian Police Department who wanted to do more to help the children they were coming into contact with when responding to 000 calls.
Bearing gifts for children experiencing trauma
"We came up with the idea of sponsoring teddy bears that could be carried in emergency vehicles and given to children in the aftermath of traumatic events, like serious road-traffic accidents and domestic violence," says Gentle Bear's CEO, John McNamara.
In 12 years, Gentle Bear has gone from an idea to a global phenomenon. More than 12,000 Bears have been delivered to over 40 different organisations and charities in six countries around the world.
There are Gentle Bears in hospitals and schools, The Royal Flying Doctor Service, cancer research laboratories, The Jane Goodall Chimpanzee Rehabilitation Centre and charities, like the Red Cross and The Salvation Army.
"We have a goal of seeing the Bears in every emergency service and police vehicle in Australia. Through our partnership with icare, Gentle Bear is taking his first steps into NSW. We're so excited to see where Gentle Bear can go and what he can do for the children and first responders of NSW," said Mr McNamara.