Barbara's story — Life after a car accident and stroke
Barbara has an infectious laugh and still speaks in a clear strong voice. The 87-year-old led a full and active life with her husband just north of Sydney. Then four years ago that all changed.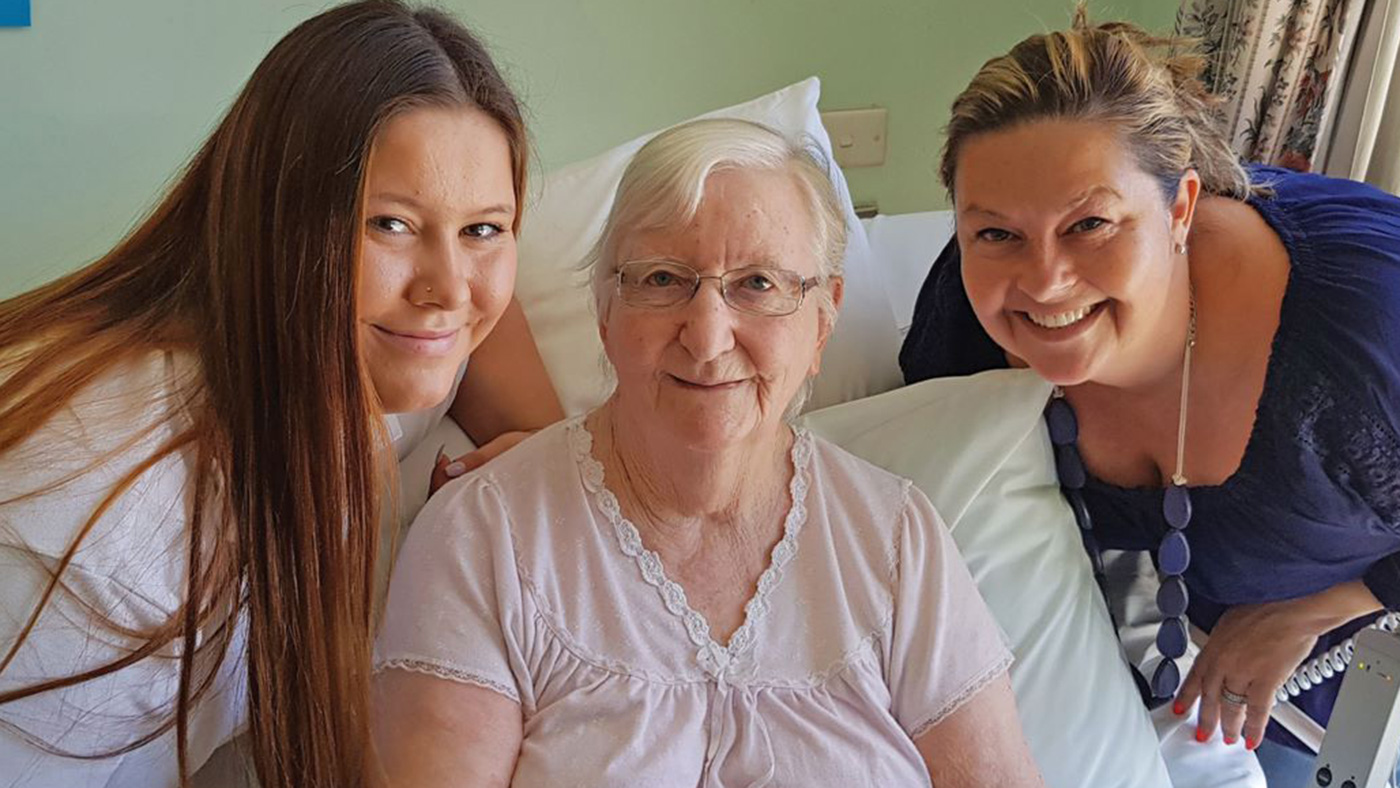 We met Barbara, her daughter Jane and granddaughter Freya at the aged-care home where she now lives in Kurrajong. Barbara grew up in England. She studied linguistics, went to Bible College and also studied agriculture. She loved farming and animals. In London she met and married a Kiwi anthropologist, Peter McLaren.
"I wouldn't go to live in New Zealand," laughs Barbara. "He didn't want to live in England. So we settled on Australia."
Barbara and Peter came to Sydney in the early 1960s. They settled in Frenchs Forest but spent a lot of time in Papua New Guinea following Peter's research into PNG tribal rites. They had two children, Bruce and Jane. Barbara is a devout Baptist and was one of the founders of the Covenant Christian School in Belrose. She taught at the school and wrote for a Christian School magazine.
"She had a calling," says Jane. "An unwavering faith in God. It's always been a constant in mum's life."
Move to the bush
In 1982 the family moved to a 25-hectare block of land in the Colo Valley just north of Sydney. Surrounded by bush, it was a great place for the kids to run free. The family lived in the house on the block while Barbara and Peter built a large mud brick and hardwood lodge. Barbara wanted to build something for church groups to use as a meeting place and a retreat. Building the lodge was a real community activity, it took about ten years to finish. Barbara and Peter ran the lodge for 20 years as a non-profit business.
By 2015 they were in their eighties and coming up for 50 years of marriage. Barbara was well known in the Hawkesbury Valley, a respected member and mentor in the Church, and still helping every week at the local public school where Freya was a student and Jane was teaching. She developed learning programs used by other teachers. "I was working with children who needed extra help – managing to bring them up a level," says Barbara.
While Jane had taken over most of the management of the lodge, Barbara and Peter still played an active role. One Sunday in August that year, Barbara went to a function in Bilpin. She was driving home when her car was hit head-on by an out-of-control four-wheel-drive on the wrong side of the road. Three passengers in the other car died at the scene. Barbara appeared to have suffered only a broken ankle but, due to her age, was airlifted to Westmead Hospital as a precaution.
"Freya and Dad and I went down to Westmead," says Jane. "We just went into overdrive as a way of coping. Mum's ankle was a bad fracture needing surgery but it still seemed a miraculous escape from such a serious accident."
"Then four days later mum had a stroke. We were told it was a massive brain bleed and she would never be able to speak or feed herself again. She would never be fully conscious and would only exist in a vegetative state."
The family made the reluctant decision to withdraw life support. "Everyone came to say goodbye," says Jane. "It was a very emotional time as we thought we were watching mum slowly die."
Recovery against the odds
Barbara's son Bruce, who was living in the United States and about to fly to Sydney, rang to say goodbye in case he didn't get to Sydney in time. "We put the phone on mum's chest as Bruce was talking," says Jane. "She seemed to be trying to speak and there were tears in her eyes."
The doctors were still not hopeful of any recovery as the scans showed no brain function, but slowly Barbara rallied. Jane and Bruce took up residence in her room in the palliative care unit, feeding her drops of water off a spoon to keep her hydrated. Soon Barbara was taking juice and within two weeks eating chicken and vegetables.
Jane puts the recovery down to her mother's brain being fashioned by an active and busy life full of strong social engagement. "Mum had the most athletic brain for any 84-year-old you could imagine. She was constantly exercising and training it."
Barbara continued to make a strong recovery. She was in Westmead for five weeks, then Jane and Bruce found a small aged care home for her in Kurrajong, only about 35 minutes from her home.
Sadly, six weeks after Barbara's accident, Peter died of a heart attack at home at the age of 87.
Adapting to her new life
Barbara's brain injury has caused her to lose much of her reading and writing ability.
"I had been such an avid reader," says Barbara. "And I was furious that they were now giving me children's books to try and read!"
She can still read short sections of books, but now finds it easier to listen to audio books on a tablet.
As Jane says: "At 87, she doesn't need to write essays. And anyway, what's wrong with audio books?"
"And she still writes cards on birthdays," adds Freya.
Barbara has found new friends in the aged care home. She can walk around using her frame and enjoys meals in the dining room where she talks animatedly with other residents.
And she goes out for appointments. "Bruce, especially, enjoys pushing mum in her wheelchair around town," says Jane.
Jane still runs the family lodge, but now as a function centre. "When I took over managing it about 12 years ago, I renovated it and opened it up for weddings and functions."
Barbara says she's used to being in the aged care home.
"I'm happy here. I still have friends from church who visit from time to time. I tell Jane she doesn't have to visit me every day. She can just ring me for four or five minutes and that's fine."
Freya says she thinks her grandmother is actually getting better.
"She looks younger than before the accident.
"And she still knows how to tell people off!"