icare supports Oz Day 10K wheelchair race
icare is once again proud sponsor of the GIO Oz Day 10K wheelchair race, hosted by Wheelchair Sports NSW/ACT.
The race is part of the GIO Summer Down Under Wheelchair Road Racing Series, the highest-profile wheelchair racing sporting event in Australia.
Now in its 32nd consecutive year, the 2021 race saw the best athletes from Australia come together on January 26 to compete on the tightest and most technical course in the world through The Rocks in Sydney.
The event kicked off with performances by the Sydney Street Choir and the national anthem performed by Wheelchair Sports member Mick Sattin. The Governor of NSW, Her Excellency the Honourable Margaret Beazley AC QC, formally started the race at 9:00am.
The race was a little different this year due to COVID-19 restrictions. International and interstate athletes were not able to compete due to travel restrictions.
Large numbers of spectators were not able to attend however there were plenty of family and supporters to cheer the athletes on from the sidelines while COVID-19 Volunteers and the NSW Police ensured physical distancing was maintained.
Dr Nick Allsop, Group Executive, Care, presented two awards to the winners of the Junior Girls Division, Sarah Clifton-Bligh and the Junior Boys Division, Cormac Ryan.
"Congratulations to all the winners and competitors at the Oz Day 10k wheelchair race," Dr Allsop said.
"All of the athletes demonstrated their strength, fitness and dedication not only on the racecourse but in the lead up to it."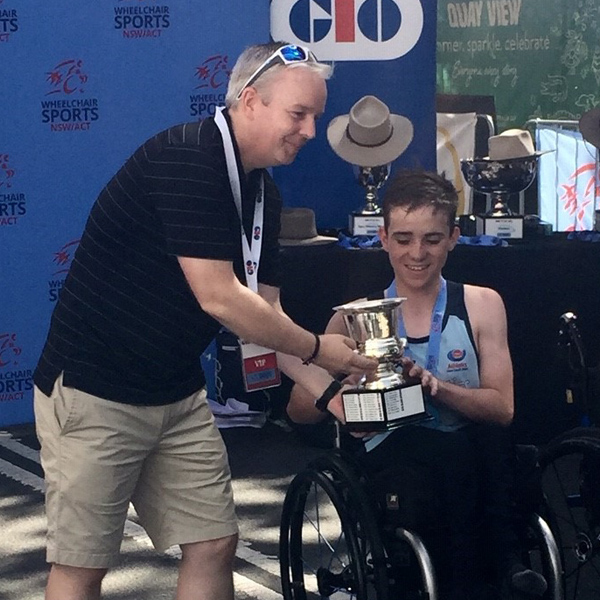 "icare is committed to improving quality of life for participants through participation in community activities so it was great to see the power of sport connecting the community."