Dispute resolution is changing in 2019
The State Insurance Regulatory Authority (SIRA) has announced that the start date for reforms to the workers compensation dispute resolution process will be 1 January 2019.
The changes are aligned to the Workers Compensation Legislation Amendment Act 2018 which became law on 26 October 2018. The changes have been designed to minimise disputes by making the system simpler, clearer and more consistent, and to streamline claims processes.
icare has dedicated teams to help customers with complaints, enquiries, internal reviews and matters relating to dispute resolution. icare will continue to provide these support services.
The following information provides an update on the changes to take effect 1 January 2019. Further detail around how these amendments will be implemented will be shared as it becomes available.
Dispute resolution
The Workers Compensation Commission (WCC) will now resolve all disputes.
The existing system of dispute resolution involving mandatory internal review for injured workers, merit review functions of SIRA and procedural review functions of the Workers Independent Review Office (WIRO) will be abolished.
Internal Review
There will still be an option of applying to an insurer for an internal review of the insurer's decision, but it will no longer be mandatory. SIRA has provided the guidance on the changes to the Internal Review process:
If a worker asks for a review of a work capacity decision, the insurer will have 14 days to respond (previously 30 days). There will be no change to the existing 14-day timeframe for a review of a liability decision.
It is an offence if the timeframe is not met.
Worker legal costs for reviews of work capacity decisions will be met by Independent Legal Assistance & Review Service (ILARS), (previously a claims cost met by Scheme Agents).
icare will continue to manage internal reviews that involve decisions on EML and Allianz Authorised Provider claims, lodged under the new claims model.
Notice of insurer decision
All existing notice templates will to identify information received from the employer and considered (this is in addition to information received from workers and by the insurer).
In certain circumstances insurers will be able to combine notice of liability disputes and the discontinuation or reduction of weekly payments of compensation into a single notice.
Complaints & Enquiries
Injured workers, employers and service providers are encouraged to contact their insurer for workers compensation complaints and enquiries in the first instance. They can also call the icare Complaints & Enquiries team on 13 99 22.
From 1 January 2019, the points of escalation for unresolved complaints and enquiries will change. All employer will be directed to SIRA, while workers will be directed to WIRO.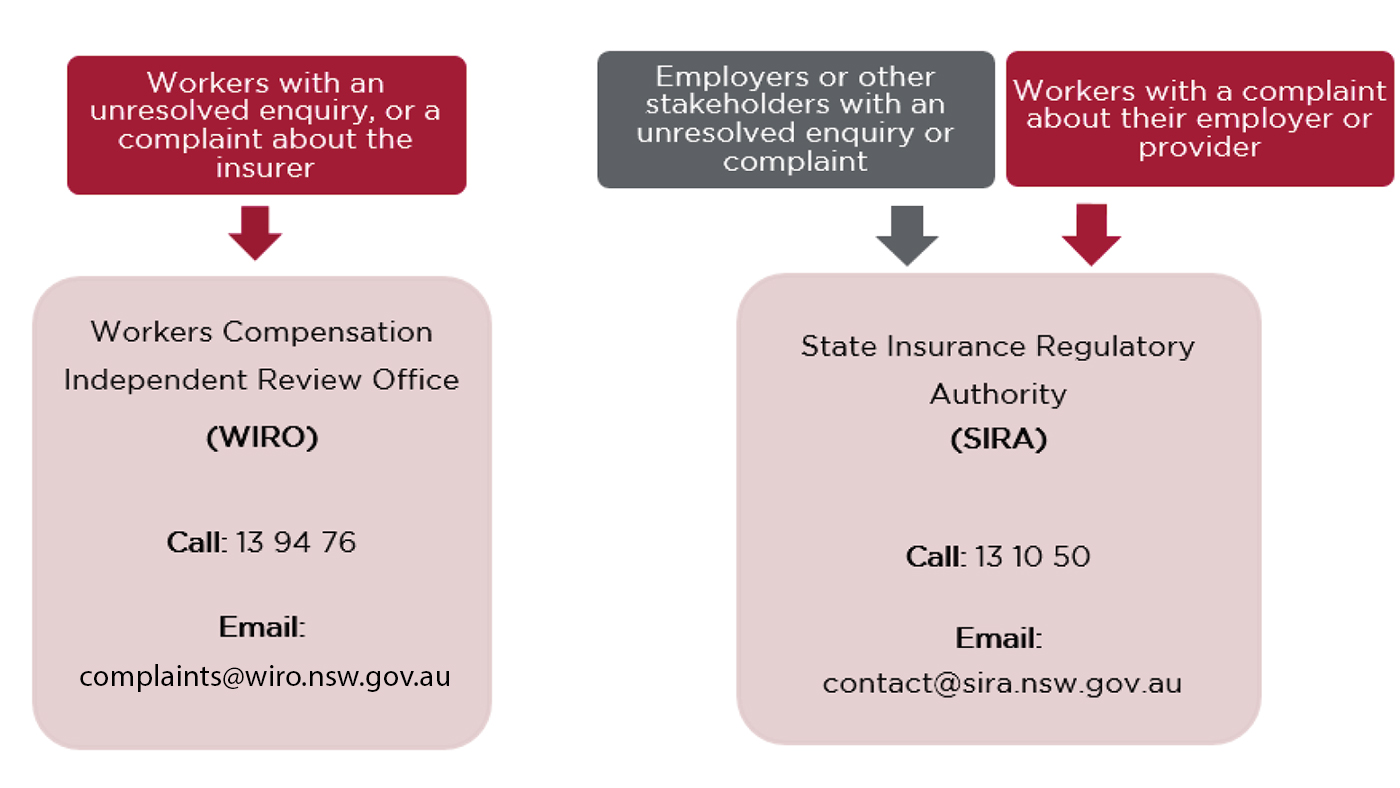 Permanent impairment
The WCC will be able to award permanent impairment compensation without referral to an Approved Medical Specialist in certain circumstances – icare will share further detail on this as it becomes available.
Miscellaneous
Employer Information
Employers will be able to electronically deliver mandatory workers compensation information to employees.
Weekly benefits
The main changes will be a new definition for PIAWE that more closely aligns with the actual earnings of a worker over a defined relevant earning period, which is usually 52 weeks. Shift and overtime allowances will no longer be excluded and the changes to legislation will also allow workers and employers to reach an agreement with respect to PIAWE in certain circumstances. These changes are yet to be proclaimed and as a result the current PIAWE provisions will continue to apply.
Motor vehicle accidents
Injured workers who receive workers compensation benefits as well as CTP damages for the same injury will only need to repay to the workers compensation insurer the amount of weekly payments received. This amendment took effect October 2018 and applies to compensation or damages paid or payable for a motor vehicle on or after 1 December 2017.
Commutation
Injured workers who previously met the definition of 'catastrophic injury' in accordance with the National Injury Insurance Scheme will continue to receive medical benefits under the workers compensation scheme, even if they commute their weekly benefit entitlements.
icare will continue to engage with SIRA, WCC and WIRO regarding these reforms, and will continue to provide information as it becomes available.
For further information on all the amendments please see the workers compensation dispute resolution reforms page on the SIRA website.